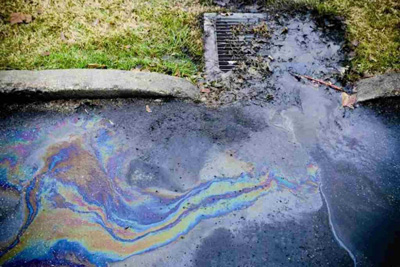 Yes! we are finally getting some rain and while we are all excited we are not all in the clear in more than one way.
Lets conserve the environment while rejoicing in the beautiful precipitation.
At this point we all know or should know that storm drain water is not cleaned or filtered in any type of way or form. It flows straight to the creeks and into our bays.
We visit many homes and businesses and frequently notice household hazardous waste sitting outside. During the rainy season this can pose a problem. Cans rust, plastic brittles under the sun and can start leaching potentially toxic chemicals into our soil.
Rainwater can and does wash toxic chemicals from your home or garden into the soil. Chemicals and synthetic fertilizers can disrupt our eco system and wreak havoc. Below are some helpful tips to minimize run off into the bay.
1. Eco-Dumpster suggests using organic fertilizers not synthetics on your lawn and garden plants.
2 If you have engine oil spills we suggest using absorbent and then sweeping. Never leave oil slicks on your driveway.
3. Do not wash your car at home.
4. Keep paints and other household chemicals out of the elements.
5. Take all chemicals to your local household hazardous waste program.
Below are the phone numbers to resources to dispose of your hazardous chemicals in different counties in San Francisco Bay.
(415) 330-1425
(650) 363-4718 San Mateo County
(510) 670-6460 Alameda County
(415) 485-6806 Marin County