Package Theft on the Rise, avoid being taken.
The shiny UPS truck brings us joy especially around this time of the year.  Unfortunately this time of year is also the perfect invitation for package theft.
Thieves salivate with greed at the thought of a front porch stacked with quality gifts.
 Reports of of vans stalking delivery vans are surfacing all over the country.
How to avoid being targeted?
Thieves are opportunistic discourage your package courier from leaving packages in plain sight.
Be a hard target!
Consider getting a security gate.

Security gates can discourage thieves.  Thieves hate attention.  A man attempting to force open a security gate draws a lot more attention than a passerby nonchalantly "knocking on your door".

A watch dog is a great deterrent.

Thieves dislike attention and a barking dog brings plenty of it.

Visible surveillance cameras

Not only will cameras make prosecuting a lot easier, security cameras are a huge deterrent.  Thieves prefer to minimize risk.

Remote surveillance cameras.

Consider getting cameras with remote monitoring capability.  You can even have surveillance cameras alert you of any movement.  One quick call to authorities and you can nab the dirty rats!

Pick up your packages from the courier.

If you are unable to be home when your package is delivered you are better off picking up your package from the courier.
Social media
Getting packages and gifts is exciting but be careful about sharing your excitement with the world.  Social media can distribute your joy to the wrong set of prying eyes.
My packages didn't get stolen, I'm safe.
Are you?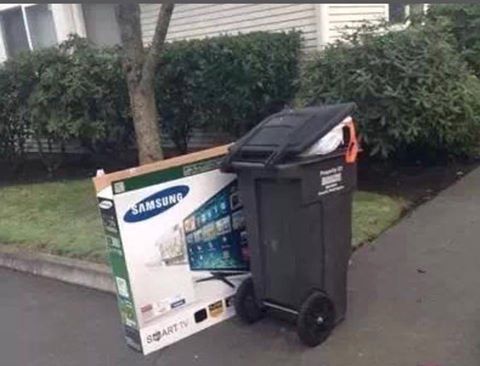 Flatten your boxes, bag your trash.
Bright beautiful graphics on boxes catch your attention when you are shopping but it also capture the attention of brazen thieves.
Flatten your boxes and stack them so they look generic and unappealing.
Call Eco-Dumpster® right away. (shameless plug)
We will come over and remove any evidence of your family and friends generosity.  We take boxes, packing material, trash, junk, old toys and most any type of junk or debris.
Never leave your garage open
Leaving your garage open leaves room for thieves to get a sense of your shopping patterns and lifestyle or that 1950's corvette.
A little common sense goes a long way.  These steps will surely help you avoid being targeted..