ECO-DUMPSTER RENTAL & HAUL AWAY IN SAN FRANCISCO BAY CA
ECO-DUMPSTER FAST AND EASY DEBRIS SERVICE
DUMPSTER RENTAL , LOAD YOURSELF OR FULL SERVICE AVAILABLE IN SAN FRANCISCO BAY
Dumpster Rental : Straight Up, NO B.S Pricing, Upfront dumpster pricing puts YOU in control Get a Dumpster without the tacky bait and switch.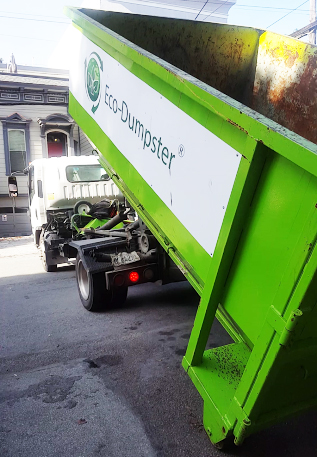 Get Eco-Dumpster® not your grandmas dumpster rental company, Our mission is to have you pick the right size at the right price.
Pro Rated 10 yarder eco dumpster
CONSTRUCTION
HOUSEHOLD
DENSE MATERIALS
CONSTRUCTION
Dumpsters for construction
---
Rent this great roll off dumpster for easy and painless disposal of construction c&d waste. You can order online!
HOUSEHOLD
DENSE MATERIALS
ECHO - DUMPSTERS IN YOUR CITY
Dumpster Rental In : City of San Mateo , Atherton Ca, San Francisco, Burlingame Ca, City of Hillsborough Ca, Redwood City Ca, Emerald Hills, San Carlos, Belmont, East Palo Alto, Menlo Park, Woodside, Belmont, Half Moon Bay, La Honda , Sky Londa, Skyline, Pescadero, Portola Valley, Los Altos Hills, City of San Francisco, Silicon Valley City of San Jose and suburbs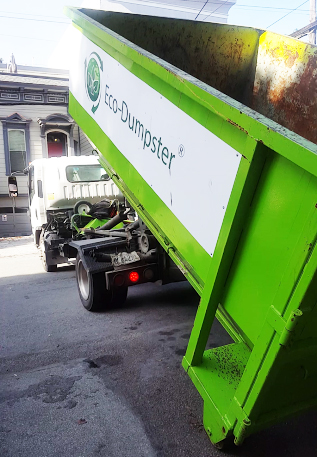 Our beginnings
Eco-Dumpster started after the founder deployed to the Hurricane Katrina Disaster zone, from there as the founder patrolled in a troop carrier he saw hurricane debris, garbage and refrigerators EVERYWHERE.
All the trash was outside or it was hauled off and piled under freeway underpasses. From there the idea for was born.
A hauling service and dumpster service specializing in proper disposal of construction debris.
Omar's mother had recently started a small corner store in Redwood City Ca. Coincidentally it had been Omar's childhood corner store in the North Fair Oaks neighborhood of Redwood CIty.
This became JunkGeneral (full service arm) and Eco-Dumpsters first yard.
And well the rest is history.
And like we say "Eco-Dumpster, baby!"
Our innovative spirit
While other dumpster companies went straight to the landfill we found our niche donating and reusing as much junk as we could. Construction waste goes to recycling facility first.
Our craft was honed as we became experts in diverting estate sale remnants.
In 2006 we were running 100% biodiesel made from RECYCLED oil. As a matter of fact we used to collect it from the U.S Chinese food restaurant in Redwood City Ca.
Well before any other hauling service or dumpster company.
Online bookings were simple, even back then!
Originality
Simply put we do things differently, we shy away from copying others and come up with our own processes.
Even our name is targeted by copy cats, it's kinda flattering lol.
Eco Dumpster debris box rentals so original we own the dot com, and the trademark eat your heart out copy cats.
We refuse to litter your neighborhood with crap plastic signs
The irony, right? We refuse to place plastic signs in the public way. Lets just say we would rather go out of business than get tacky like that.
After all, those signs have to go somewhere right? Let others operate as they please but it's not our thing.
Simply put, plastic stuff belong in a dumpster not tied to pole somewhere. After all, who's going to pick up the sign when it blows off?
For this reason if you think like us,
give us some support, share us on social media. Help us out! That's what makes us all great, helping each other bit by bit.
We whole heartedly appreciate the support.
NOT ACCEPTABLE, DON'T BE A SMOGGY