ECO-DUMPSTER CONCRETE REMOVAL IN SAN FRANCISCO BAY CA
CONCRETE REMOVAL, HAULING, RECYCLING AND SLAB REMOVAL
Experts in auto salvage. Don't hesitate!   Do Junk car removal promptly, certainly your neighbors will appreciate the gesture.
EVER TRIED REMOVING OR LOADING UP A WHEELBARROW OF CONCRETE?
HOW ABOUT DEMOLISHED UP A CONCRETE SLAB?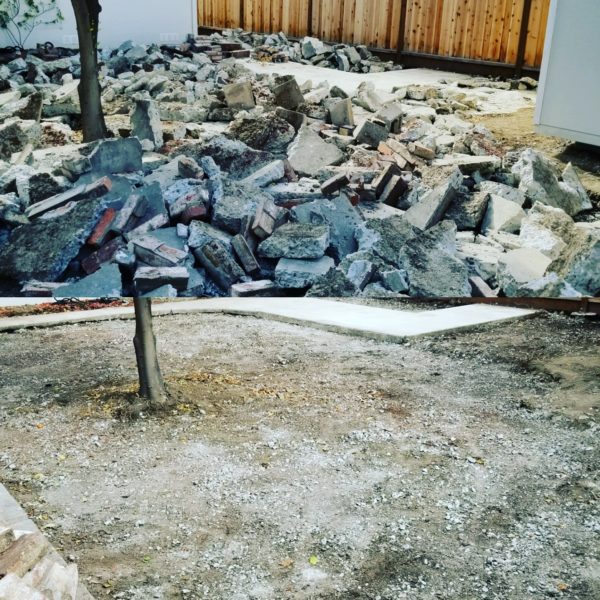 Call:  650-367-7644 San Francisco Bay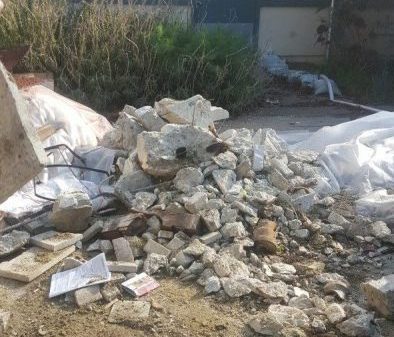 Small and large removal jobs.
We haul concrete, clean or dirty
You break up the slab Or we'll go hardcore on it for you!
INDUSTRIAL ATHLETES, GET IT DONE RIGHT
You read correctly, with the a few clicks or a phone call to 650-367-6744 you can free yourself of that pile of concrete or old cracked cement slab. From San Francisco to San Jose
EXAMPLES OF HAULS PERFORMED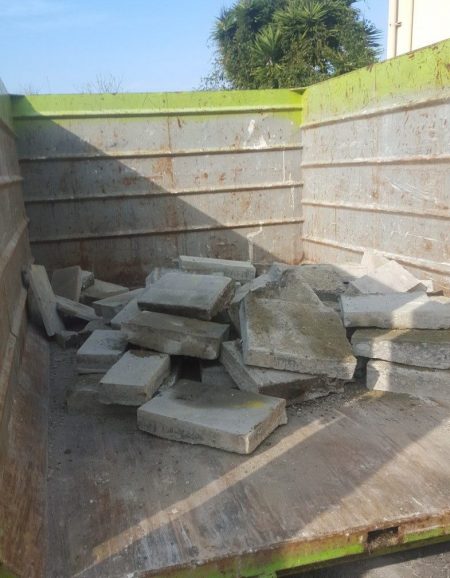 Our bins lower to make concrete loading safe.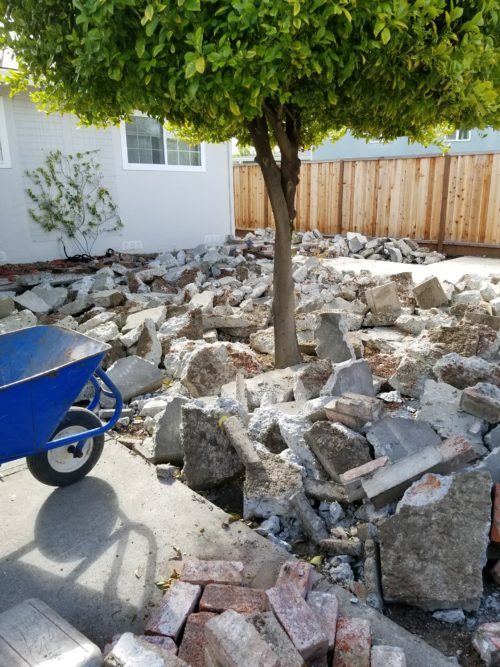 CASE STUDY: EAST PALO ALTO, CA CONCRETE HAULING JOB
Check this out! A large amount needed to be hauled off in one day, approximately 15 cubic yards of concrete with some brick.
BEFORE HAULING, THE PLACE WAS A COMPLETE MESS.
As can be appreciated in the pictures tons of concrete lay stubbornly on the ground.However, with us on your side, the junk stops here.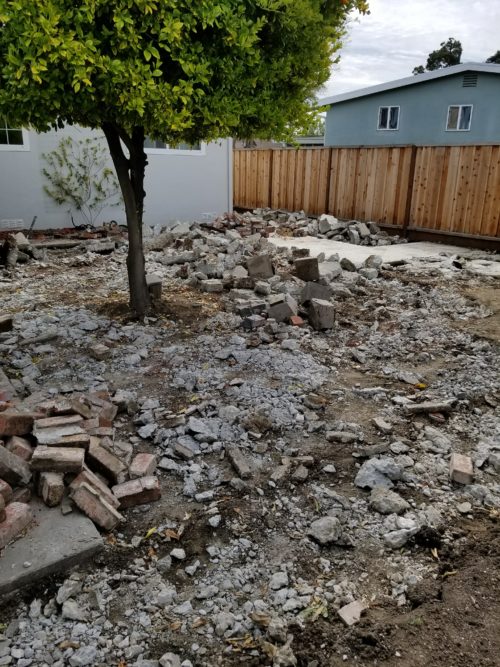 Dump trucks are used for all concrete hauling jobs obviously there is no room for wimpy pick up trucks here!
A one ton full size pick up truck can safely haul a maximum of 2,000 lbs of concrete however we safely haul almost 4x that!
EASY DOES IT, EQUIPMENT IS A FORCE MULTIPLIER
In addition to hauling the concrete, our trucks make our job easier. In fact their ability to drop our Eco-Dumpster® bin onto the ground makes our loading safe and more efficient.
Wheelbarrows, skid steers and seasoned muscle are all used when the job dictates, however we have accomplished jobs in which wheelbarrows would not fit.
That's right, good ol' fashion muscle.
ROPES, PULLEYS AND BUCKETS
As mentioned earlier sometimes wheelbarrow and special equipment just wont work.
IN THOSE SITUATIONS WE HAVE BEEN KNOWN TO EMPLOY:
Proper protective equipment must be worn when handling concrete:
IN THOSE SITUATIONS WE HAVE BEEN KNOWN TO EMPLOY:
WEIGHT CONSIDERATIONS WITH DENSE MATERIALS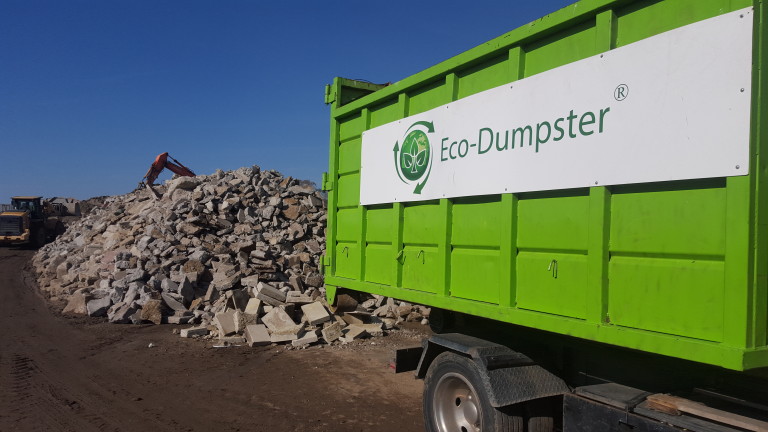 TRUCK CAN ONLY BE PARTIALLY FILLED
As much as we wish we could, there is no way one of our dumpster bins could be safely and legally filled entirely with concrete.
First and foremost concrete hauling is taxing on equipment.
The sheer weight would make it impossible to transport a full bin of concrete over our roads, not to mention our truck would break faster than cellphone screen on a sidewalk.
HOW MUCH CAN YOU HAUL AT A TIME?
Depending on the density of the concrete our driver will inform you what the crew can transport. Usually 4 to 5 cubic yards.
Some factors affect loading speed.
SAN FRANCISCO, SPECIAL CITY DIFFERENT APPROACH TO HAULING.
As we know, a lot of things in San Francisco are a lot smaller than in other parts of the bay area.
Side yard entrances are not always there. Gas meters and narrow entrances make this city especially challenging.
THE LITTLE NUANCES OF WORKING IN A SPECIAL CITY
For example, China town, is a neighborhood in San Francisco which has very limited parking and backyard access often times limited or inaccessible.
Occasionally access was so limited the only way to haul was in 5 gallon buckets, no doubt tedious and grueling work.
If you require services which may require excessive labor or special considerations feel free to schedule a consultation for a price quote.
IN SAN FRANCISCO SOMETIMES ACCESS JUST ISN'T THERE.
For example, side gate access was unavailable at this job site.
Every cement pier and chunk had to be hauled away by hand or in 5 gallon buckets through the home.
WHAT'S THAT TRACTOR LOADER GONNA DO UP THOSE STAIRS?
A wheelbarrow or bobcat would have been useless in such situation. We got the job done on time on budget and without damage to any property.
Heavy stubborn slabs were simply laying on top of the ground .
We used sledge hammers and our technique to get them broken down to size.
BOBCAT SKID-STEER REMOVAL AND LOADING
Have a lot of material? relatively level ground, and 36 inches of access to your project?
Our small Bobcat loaders fit through a 36″ gate as long as there are no other obstructions.
In cases like these our specialty skid steers can get in and retrieve pieces with a specialty grapple bucket effectively loading safely and efficiently.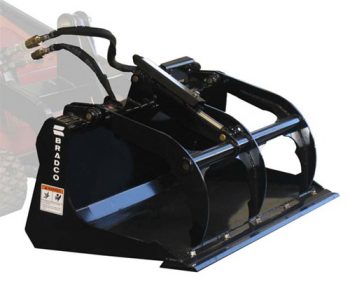 OUR SKID STEERS ARE EQUIPPED WITH GRAPPLE BUCKETS TO HOLD ON TO THE PIECES AS WE SQUEEZE BY SIDE GATES.