Voila! Debris Box Rental to fit your need.
Make it disappear into our 18 cubic yard Eco-Dumpster®
Need the biggest debris box we have? Great, you have come to the right place.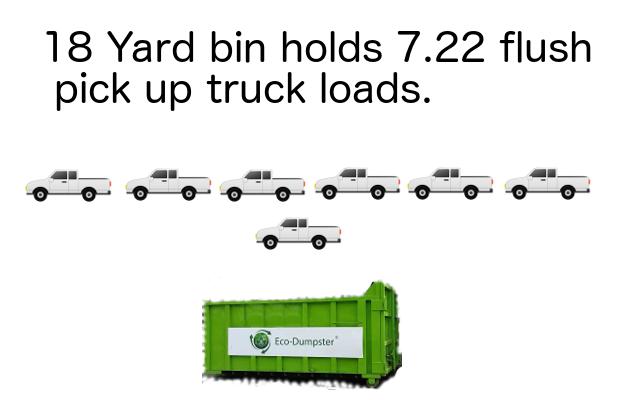 You can fit a small car inside our Eco-Dumpster® bin.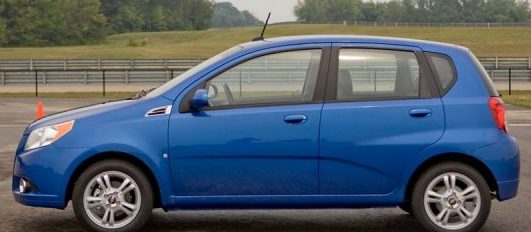 This Chevrolet Aveo can fit inside our bin with room to spare on the sides.
Handsome Capacity
Each 18 cubic yard Eco-Dumpster® bin measures 13x8x5 which means you can easily roll a car like this inside and still have room to backfill with junk.
Of course if you will be disposing of a car let us know ahead of time so we can guide you through the process.
What do you get?
First of all, each debris box rental package includes:
Delivery, Pick up and responsible disposal of up to 6,000 lbs , (3 tons).
100 per ton pro rated if over 3 tons.
Remember, no intermingled dirt, concrete, or dense materials in our eco-dumpster debris bins.
Dense materials must go in an eco-dumpster of its own or be trucked out.
18 cubic yard debris box rental uses:
An 18 cubic yard eco-dumpster® debris box is the perfect size to dispose of the equivalent of:
Average 1 bedroom apartment 700- 900 square feet depending on furniture density and clutter.
An average garage full of junk like the one below.
It's important to realize these pictures are real pictures taken directly from the field and jobs depicted were
hauled in an 18 cubic yard Eco-Dumpster® debris box,


however your results will vary depending on individual packing style and type of junk loaded.

Check out the picture below, it was hauled in one 18 cubic yard dumpster bin.
Need dumpster rental but the 18 yard debris box model is too large for your need?
Or, you need someone to help you load the Eco-Dumpster®?
You have a few options:
 Opt for a smaller dumpster, check out our different sizes.(Our dumpster rental bins are available in 10, 15 cubic yard and 18 cubic yard sizes)



Consider pro-rated full service junk removal.

Get the idea? 
Call 650-367-7644 for a free onsite, estimate or reserve your dumpster rental below.

Dumpster Rental Reviews
Gena Brown
8/21/2016
Eco-Dumpster®
18 cubic yard eco dumpster rental
5